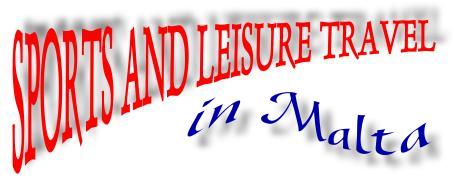 Welcome to SPORTS AND LEISURE TRAVEL in Malta
Our recently established site offers a variety of travel services with a particular emphasis on sport and adventure travel. The favourable climate, unique marine environment and extensive range of first class facilities makes the Maltese Islands an ideal place for individuals/groups looking for a quality break.
Amongst other packages, at SPORTS AND LEISURE TRAVEL we offer you :

Football and Tennis Training Camps all year round

Adrenalin packages including skydiving, scuba diving, abseiling, wakeboarding and paintball.

Scuba Diving Livaboards around the Maltese Islands or Sicily.

A combination of English Language Courses and Scuba Diving, Sailing or Tennis.

An Eco-break in Malta's sister island, Gozo,
complimented with a friendly team of individuals geared towards making your stay in Malta an unforgettable experience.
www.sportsandleisure.net
[ Football | Tennis | Tariffs | Contact us]
<!;---BEGINNING OF Maltese Ring HTML FRAGMENT--->
This website is a member of The Maltese Ring, a linked list of Maltese websites. To visit other sites in the ring, click on one of these links :

[ Previous | Previous Two | List | Join | Random | Next Five | Next ]
This Maltese Ring site is owned by sportsandleisure.
[ Sign my GuestBook ] - [ Read my GuestBook ]
[ GuestBook by TheGuestBook.com ]
Any queries about this site e-mail: the Webmaster